Many Places. One Passion.
CLAAS operates more than ten production plants worldwide—all united by a passion for agriculture. If it has the CLAAS name on the outside, you can be sure it has the CLAAS quality on the inside—from products to corporate culture. But how does the company manage to uphold the highest standards across the globe while also creating a tightly knit community? Find out by getting to know some of our production plants in more detail, and meet the people behind the machines. If you want to discover even more about global production at CLAAS, you can find all our production plants here.
Four CLAAS production plants
Insights from our colleagues
Questions for CLAAS
1. In how many countries does CLAAS have production plants and where are they located?
We basically distinguish between production (i.e., manufacturing individual components) and the final assembly. We manufacture at the following locations:
Germany: Harsewinkel, Paderborn and Bad Saulgau
France: Le Mans and Metz-Woippy
Hungary: Törökszentmiklós
USA: Omaha
India: Chandigarh
China: Gaomi
Russia: Krasnodar
Final assembly takes place in Uzbekistan (Tashkent) as well as Krasnodar (in addition to local TUCANO production). We also source machines from partnerships with Liebherr (SCORPION, TORION) and Carraro Agritalia Tractors (NEXOS, ELIOS).
2. Why do CLAAS products routinely perform so well in tests?
The fact that our products are consistently rated high and best-in-class in independent surveys is due to a number of factors. First, we have years and often decades of experience and expertise in many product areas. This puts us at the forefront of cutting-edge design when it comes to combine harvesters, forage harvesting equipment, forage harvesters, TERRA TRAC crawler tracks and CEMOS assistance systems.
Then we have innovative employees who are attuned to the needs of our customers. Many of our developers come from a farming background themselves. Furthermore, direct feedback from customers all over the world helps us to continually refine and improve our products.
Another important factor is that when developing our products not only do we focus on producing products that are reliable, efficient, and highly effective, but we also design them to be low maintenance with minimal wear costs, so they retain their value longer and have an exceptionally long service life.
3. Does CLAAS manufacture everything in-house? What is the level of vertical integration?
No, we don't make everything in-house, that would not be commercially viable. Depending on the products, our level of vertical integration is around 20 to 25 percent. Take components such as diesel engines, for example. We don't have sufficient volumes to justify in-house production, so instead we rely on engineered components that are also used in semi trucks or construction machinery.
Not only that, but it's often more economical to source many of the specialized manufacturing processes such as plastics processing, electronics production, and metal forging and forming, which are of a high quality.
However, we tend to manufacture large-volume welded components in-house just in time. We generally assemble and commission our products ourselves, too.
4. How does CLAAS ensure that its products are consistently produced to the same standard?
First and foremost, our highly qualified and skilled employees are responsible for the excellence of our products. In addition, we have put in place a range of processes to ensure the quality of our machines.
Quality management: The group-wide quality management system is regularly audited both internally and externally and continuously improved.
Supplier selection: We expect the same highest standards of quality from our suppliers as we do from ourselves (see question 6: What standards do CLAAS suppliers have to meet?). To satisfy these standards, we select our suppliers with the utmost care in accordance with a standardized process. We regularly check our standards to ensure that they comply with automotive standards.
Validation of components: We use simulation-based methods to test how components and assemblies behave under continuous and peak loads.
Constant field testing: During development and pilot production, we test our products in the field to detect any possible quality issues before starting series production. During series production, we test the machines remotely both offline and online so that even the slightest discrepancies can be corrected.
Inspection of components: Purchased parts at CLAAS undergo routine incoming goods inspections. Parts manufactured in-house are regularly checked to ensure they conform to specifications.
Quality gates: QGs are part of our coordinated and standardized manufacturing and assembly processes. They enable us to identify and rectify deviations directly on site. When deviations occur, established internal quality control loops are immediately set in motion to rectify the deviation in the short term and eliminate the actual cause of the error permanently. CLAAS also uses a group-wide IT app to support the troubleshooting process.
Machine test benches: These test benches integrated into the assembly line test whether the machines meet the specified load profile for customer use.
Product audits: We regularly select machines at random and test them for several hours from the customer's point of view.
Pre-delivery inspection: We give machines a final inspection before delivering them to dealers. This ensures that our products comply with all customer requirements.
5. What standards do CLAAS suppliers have to meet?
We're a premium manufacturer, so our suppliers are required to meet the highest standards in terms of quality, logistics, costs, innovation and motivation. These aspects are reviewed annually as part of our supplier assessment process. Our suppliers are also expected to make continuous improvements.
Developing good working relationships with our partners is important to us. We're constantly looking for opportunities to deepen our special partner status with our suppliers that goes both ways.
6. According to what standards are CLAAS employees trained?
We train our employees based on the following principles:
Objective and needs-based approach: For us, further development means helping our employees drive CLAAS forward—now and in the future. The CLAAS corporate strategy and objectives determine the development needs of our workforce. To this end, we take a systematic approach to analysis and planning in order to prioritize training opportunities. In individual discussions with employees, we identify where their focus of professional development should lie, in addition to mandatory employee training, e.g., in occupational health and safety.
Practical experience and sharing know-how: We base our employee training and development on the 70-20-10 model: 70% of the time our employees learn on the job, e.g., by taking on new responsibilities. 20% of the time they learn from others, e.g., through feedback. And 10% of the time they learn in a formal setting in professional development programs and in-person or online training courses. It's important that the courses and programs build on one another, encourage reflection and have a large practical element to help internalize what has been learned. Formal training programs are offered through a combination of methods tailored to the target group.
Transparency: Eligibility requirements for our professional development opportunities are transparent. The assessment criteria are based on systematic frameworks such as the CLAAS skills model.
Individual responsibility: Every employee has a unique potential that deserves to be recognized and nurtured. Employees take responsibility for their own professional development, from start to finish. Our management team and HR department play a supportive role in helping employees achieve their development goals.
Evaluation and quality control: After each personnel development measure, employees have the opportunity to provide feedback. This allows us to monitor the success of each measure. In addition, we benchmark ourselves against other companies to check the quality of our development opportunities in order to make them even better.
7. How does CLAAS create a common employee culture in locations all around the world?
One thing that unites us all is that we're a family business with shared values. We also share an enthusiasm for the CLAAS brand and for our products, as well as the associated shared vision of making our customers the best in their field.
And of course, the family-like working atmosphere plays a major role, which is shaped by the personal commitment of all employees worldwide.
8. How does CLAAS support local farmers and agricultural service providers?
We support local farmers and agricultural service providers primarily by providing innovative and efficient products and by our experienced, highly professional sales and service partners:
CLAAS machines: Our tractors and harvesting machines are among the most efficient on the market; they have low operating costs and feature high-quality drive and chassis technologies which are also fuel-efficient and soil-friendly. They include the TERRA TRAC crawler tracks and CTIC tire pressure control system.
Assistance systems: We're at the forefront in this area too. A wide variety of CEMOS assistance and process optimization systems relieve the burden on drivers so that they can focus on their job during long workdays. The technology also enables less experienced operators to deliver outstanding results.
Data documentation and analysis: We provide solutions for data documentation and analysis such as TELEMATICS and CLAAS connect which are aimed primarily at contractors and arable farms.
Precision farming technologies: Users of our machines can cut down on inputs with the aid of digital tools such as automatic steering systems, guidance systems and Section Control. We offer digital solutions through 365FarmNet from fleet management and farm management software to field mapping, crop cultivation and herd management.
DataConnect: Our connected machines are compatible with the cloud-to-cloud DataConnect platform. This means that our customers can view machine data across their entire fleet—from CLAAS, 365FarmNet, CNH to John Deere.
We also take pride in having an extensive, network of professional dealerships who offer outstanding service:
Spare parts: We ensure a fast and reliable supply of high-quality spare parts—not just for new CLAAS machines, but older models, too.
Warranty: Various extended warranty options are offered through CLAAS dealers that can be used to minimize ownership costs and risks.
Used machines: The global CLAAS used machine business is regarded as the most professional in the industry. Certified used machines with warranties give purchasers peace of mind.
Behind the scenes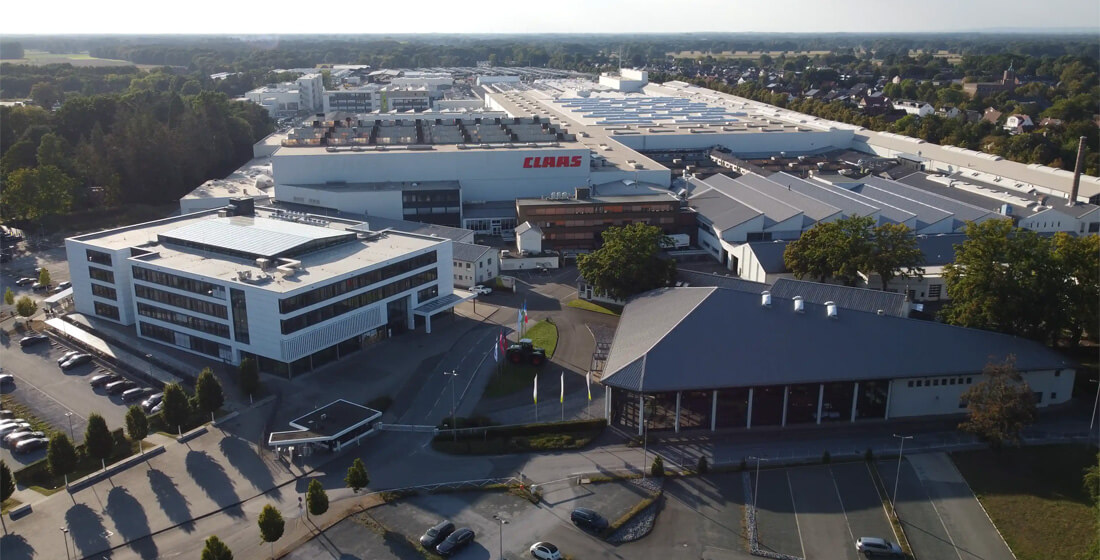 Around 3,600 employees work at the main CLAAS production plant in Harsewinkel spanning over 135 acres, equivalent to over 100 football fields.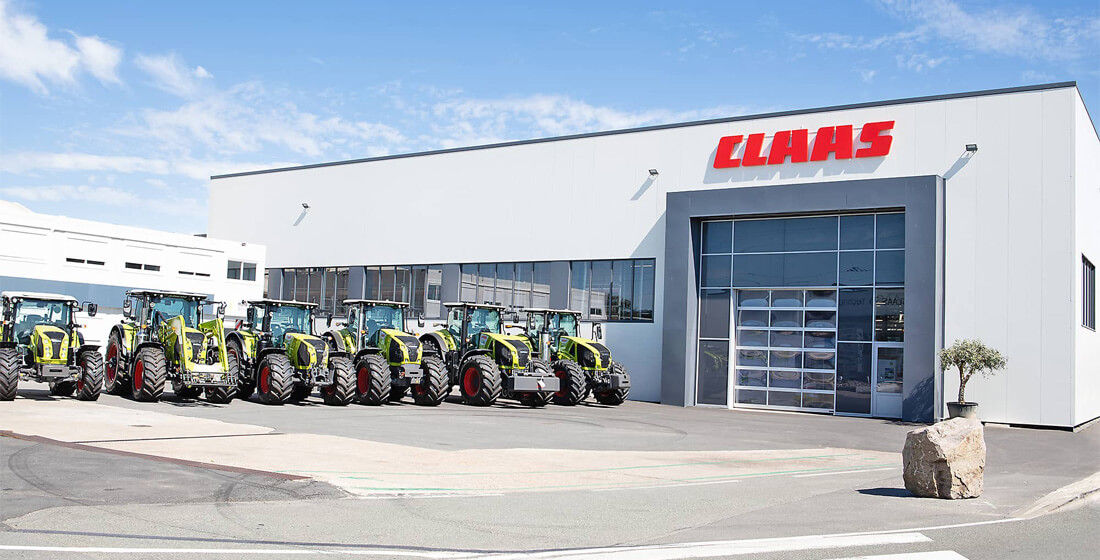 10,000 tractors are produced at the CLAAS factory in Le Mans each year. Each machine is made to order—according to the individual customer's specifications.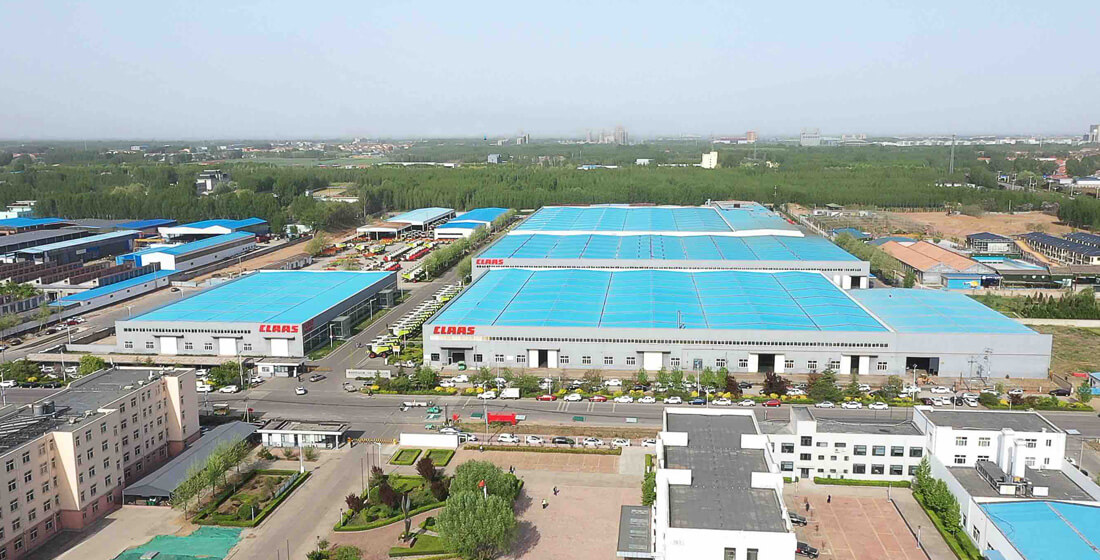 The CLAAS production plant in Gaomi covers an area of approximately 30 acres and employs around 500 people.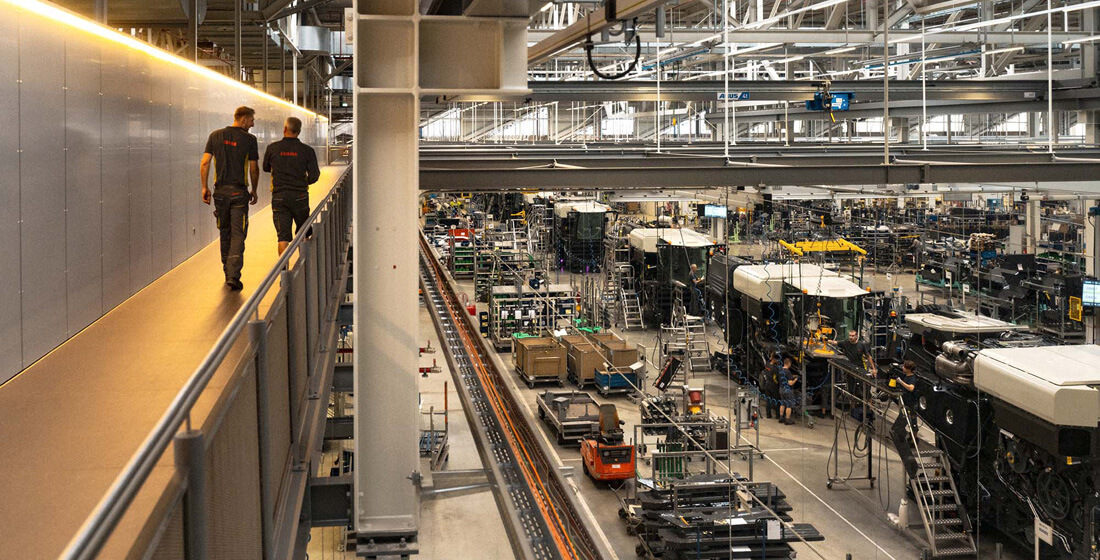 Customers and visitors have a clear view of the combine harvester production line from the skywalk at the Harsewinkel plant.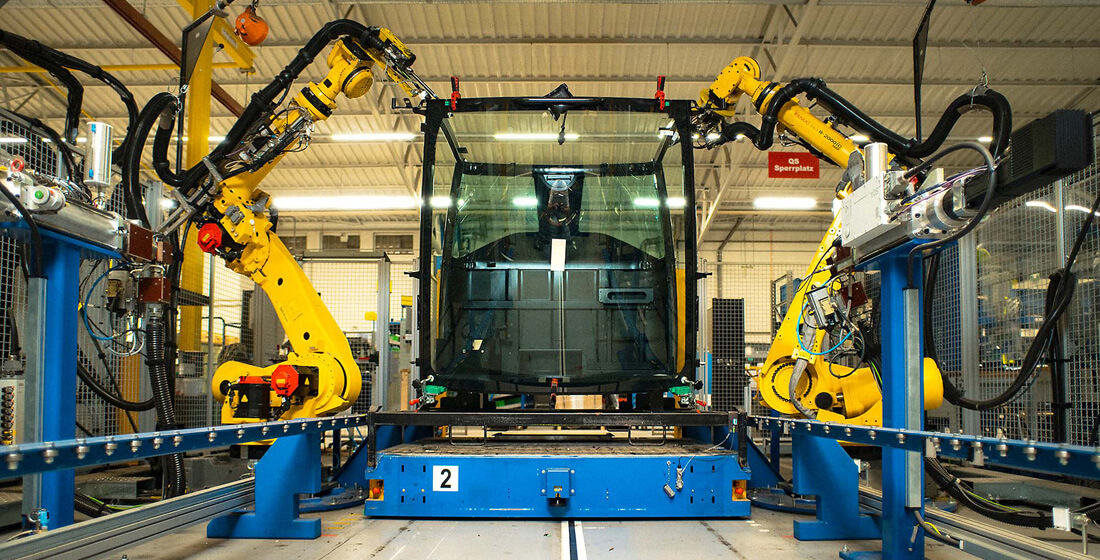 A semi-automated process is used to manufacture the cabs for the farming machines produced in Harsewinkel.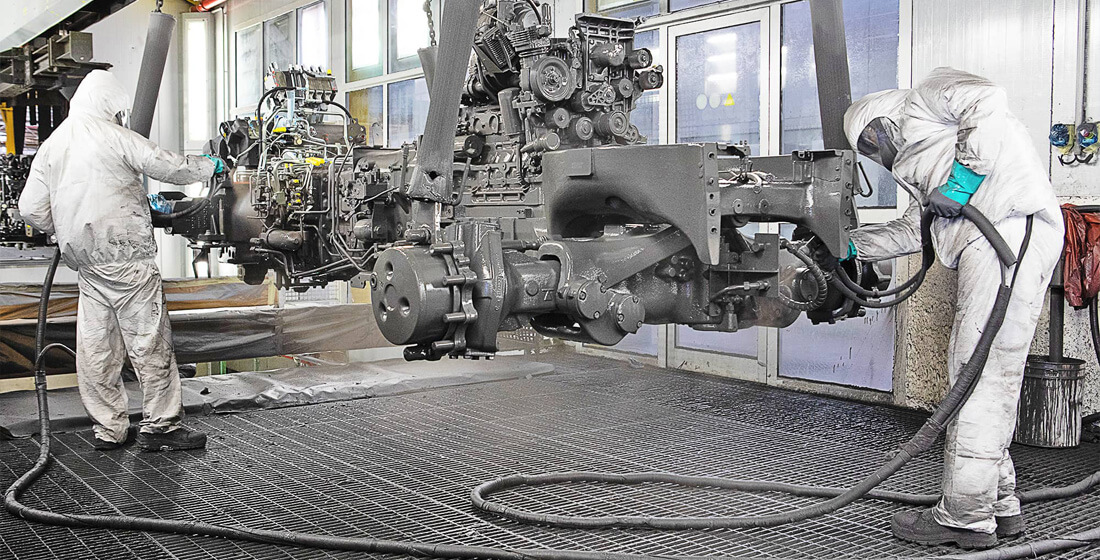 Employees in the paint shop in Le Mans paint the top of the transmission.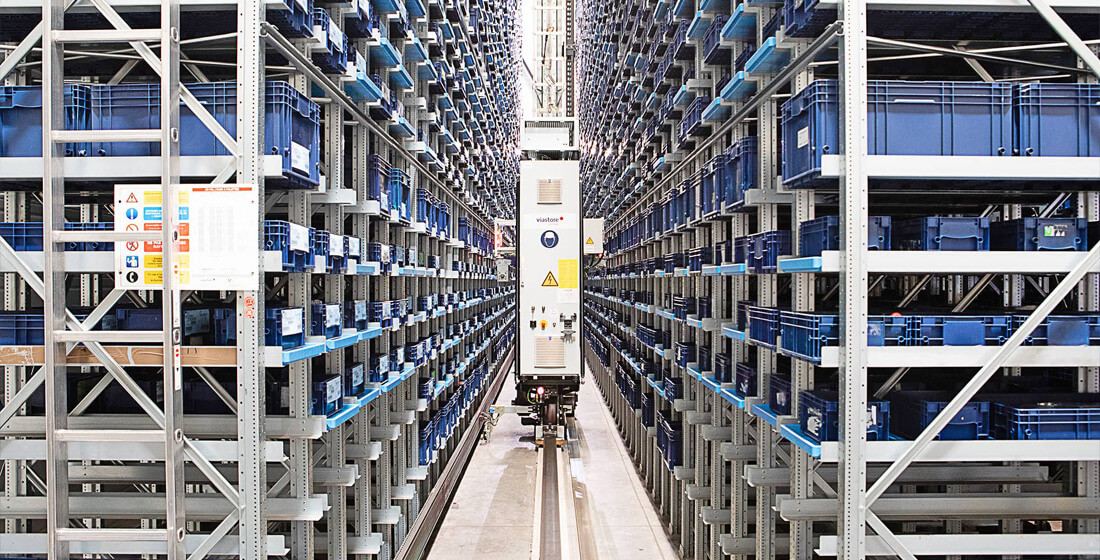 Following its modernization from 2017 to 2020, the factory in France now has a space-saving automated small-parts warehouse.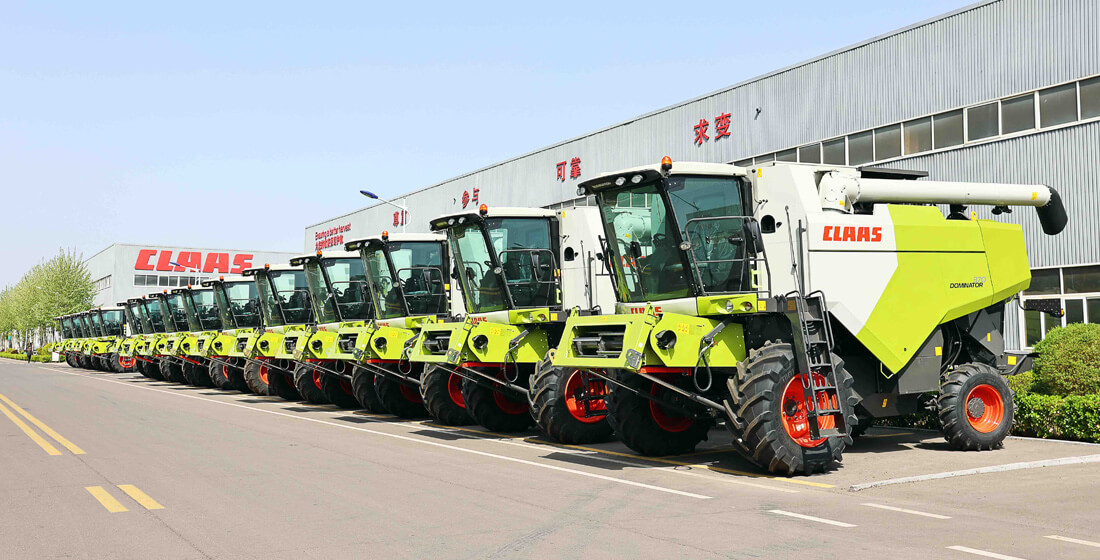 CLAAS combine harvesters made in Gaomi: the DOMINATOR 370 hybrid combine harvester and the DOMINATOR 260 straw walker machine in the 12 t class were developed for the Chinese market and selected overseas markets. Further harvester models are in the pipeline.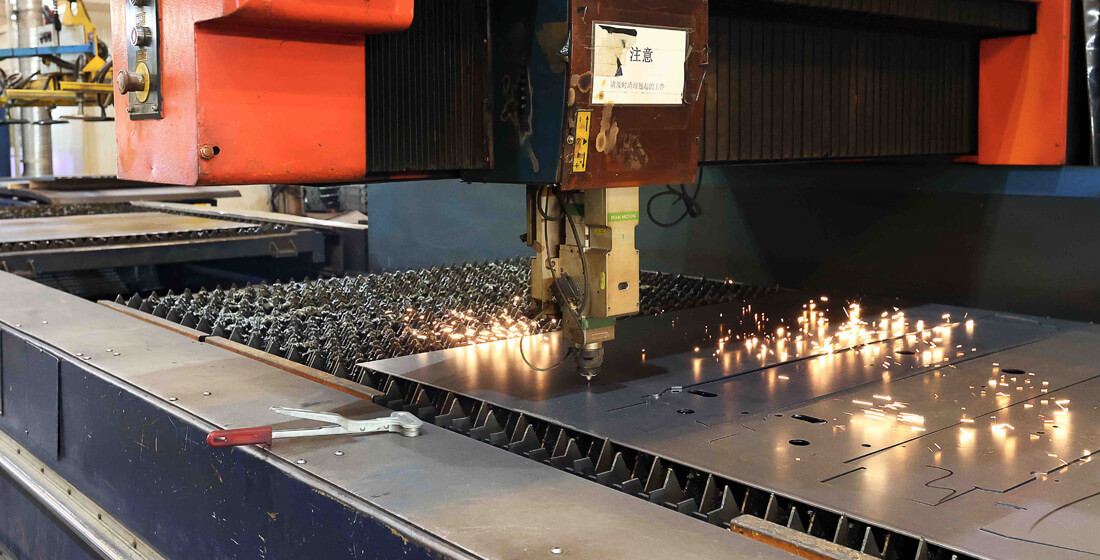 Precision cuts: the factory has a modern 12 kW laser cutter for rapid, high-precision sheet cutting.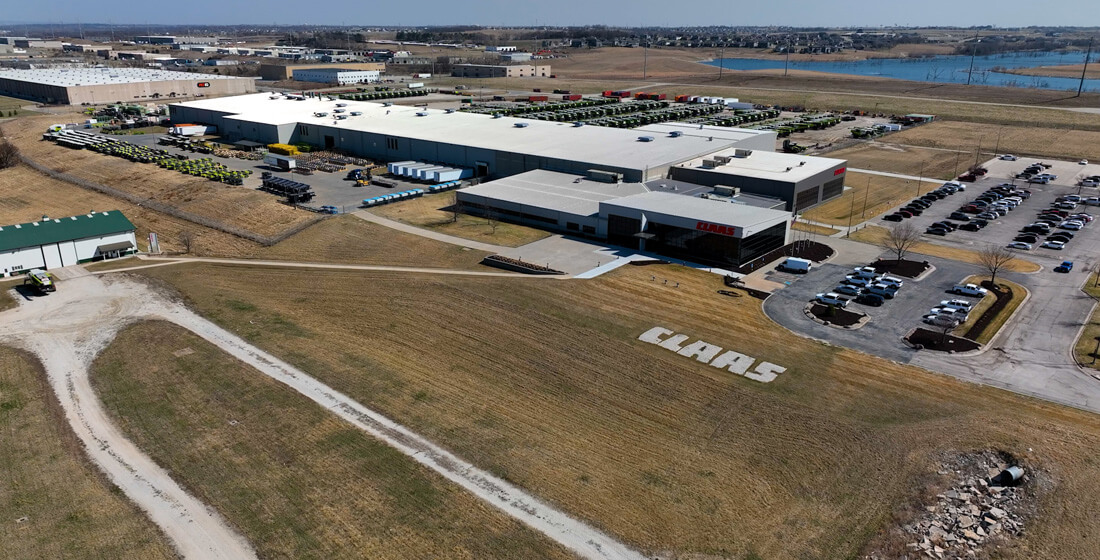 160 acres of space (approx. five and a half acres of which is under roof) and more than 150 employees: the CLAAS production plant in Omaha.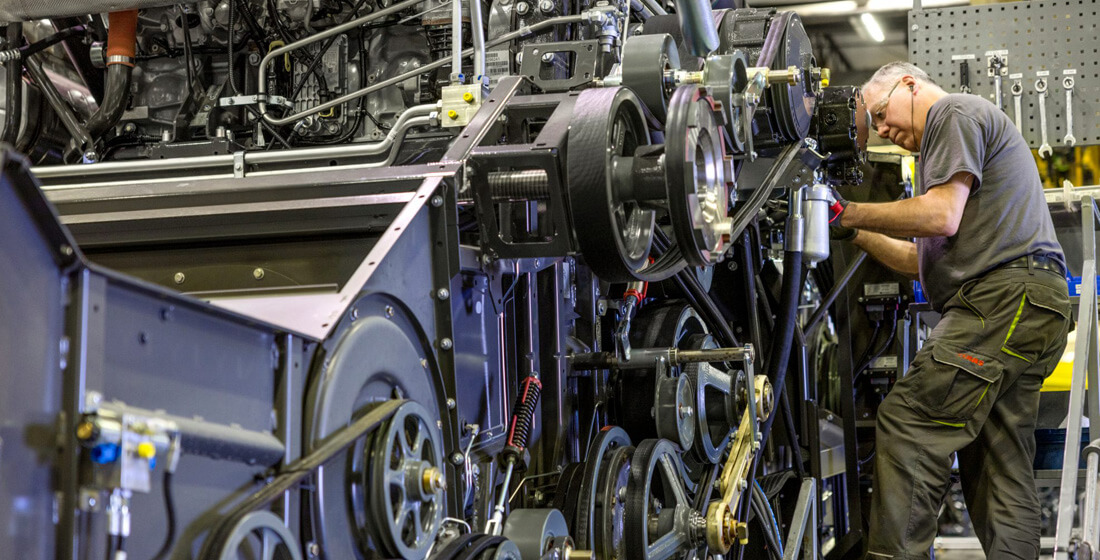 A CLAAS employee prepares the installation of a grain tank.