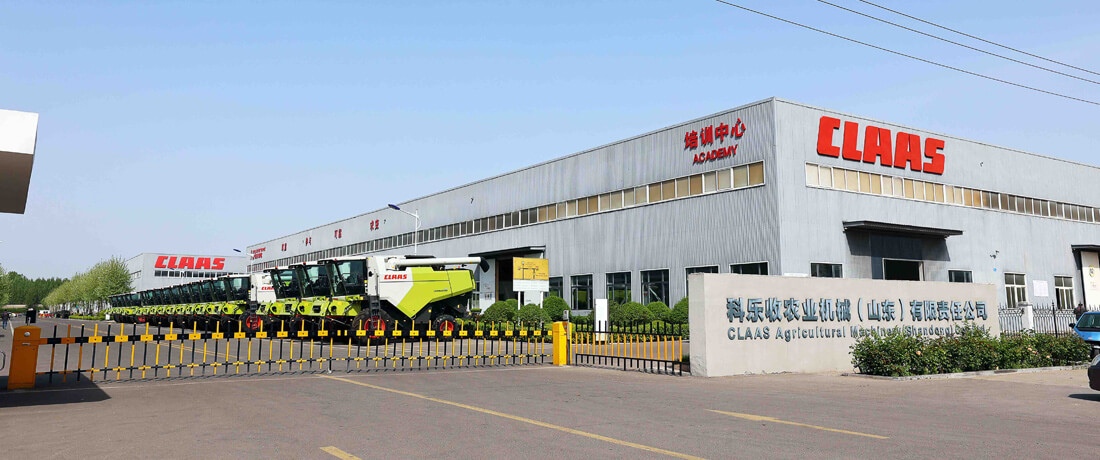 The factory in China's breadbasket
CLAAS has operated a site in the city of Gaomi in eastern China since 2014. The factory produces high-quality agricultural machines and manufactures components to the same standard as German suppliers. It owes its success to Germany's dual system of vocational training and education and the CLAAS corporate philosophy, which is also practiced in Gaomi some 5,000 miles away from the German headquarters in Harsewinkel.
Dr. Xi Chen is an early bird. During the week he arrives at the site in Gaomi no later than 7 a.m. Some people might find it a little strange to see him sitting down to breakfast in the large plant cafeteria and engaging in friendly conversation with the employees. This is because, as General Manager, Chen is responsible for CLAAS production in China—and in Chinese companies, a boss as approachable as Dr. Xi Chen is really quite extraordinary.
Chen explains in German that an employee once said to him: "Dr Chen, in the past we never used to see our bosses very often. But you come into the factory and eat with the others in the cafeteria. I like that." This makes Chen proud, because he takes pride in the fact that the Gaomi factory is not a typical Chinese company: "We're a German company, even though we're located in China. Our customers expect the highest standards from our products", he says. "After all, a CLAAS combine harvester is the Mercedes of agricultural machines." To satisfy these expectations, it's very important for Chen to establish the CLAAS culture within the factory.
"My personal motto is: take the initiative, be confident and stay positive."
– Xiaochuan Liu, service technician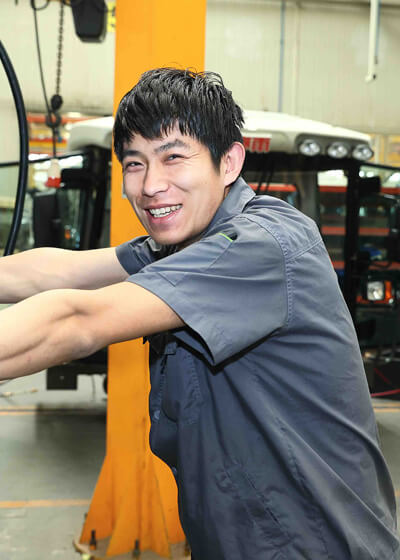 "The success of farmers depends on the quality of our products. That's why I make sure that everything down to the smallest detail is excellent."
– Xiang Zhai, service technician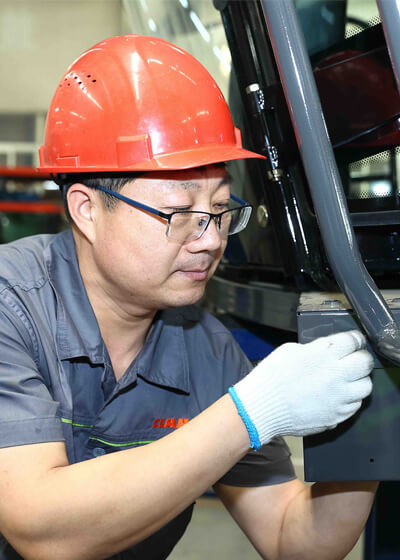 "As a member of the CLAAS family, I work with colleagues and stakeholders throughout the world to achieve our common goal of obtaining the best prices and driving our business forward."
– Glen Wang, procurement manager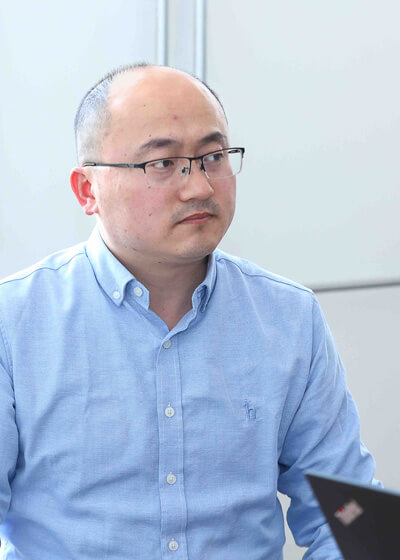 "Apprentices in our factory's dual education and training program not only acquire the necessary practical skills, they also develop a valuable awareness of quality and responsibility. In return, they help to produce premium-quality CLAAS products. I'm extremely proud."
– Alfred Liu, director of the dual education and training program
"I believe that quality goes hand in hand with our own attitudes. That's why I really like the fact that the atmosphere here is so positive."
– Yujian Pan, service technician
Flat hierarchies – no easy task
Chen has the advantage of being very familiar with Germany and German companies. The 45-year-old studied engineering in Germany; he holds a bachelor's degree from the University of Stuttgart and a doctorate from Karlsruhe. He then worked for several years in managerial positions for German automotive suppliers.
Since starting at CLAAS one and a half years ago, Chen has been working hard to flatten the hierarchies in Gaomi. No easy task, as Chinese companies often have far more clearly defined hierarchies than German family businesses like CLAAS. So many colleagues are still reluctant to voice their ideas openly. To overcome this, Chen has introduced quarterly town hall meetings where employees can put questions to the management – even anonymously if they wish.
This approach, still largely unknown in China, has proved popular with staff. Another big success is the new app-based suggestions scheme, which has already led to many improvements in Production. The culture of open communication and constructive criticism that Chen is striving to achieve is also producing results.
700 machines per year
These changes to the corporate culture in recent years have contributed to the success of the production plant. It was established in 2014 as a joint venture with a Chinese company. Since 2016, it has traded under the name CLAAS Agricultural Machinery (Shandong) Co. Ltd and is part of the Germany company.
After initial challenges in gaining a foothold in the Chinese market, CLAAS in Gaomi now produces 700 machines per year – mainly combine harvesters. These are manufactured primarily for the Chinese market under the CLAAS name and the Chinese brand name CHUNYU. For some years now, Gaomi has been preparing the ground for exporting to foreign markets.
The site employs 500 staff and has a comprehensive sales and service network in Central and Northern China. CLAAS is currently the only German firm in Gaomi. The city with 900,000 inhabitants – quite small by Chinese standards – is in the Shandong Province, one of China's main agricultural regions and known as the breadbasket of China. The megacity Shanghai is seven-and-a-half hours away by car, or around six hours by train.
Better than many German suppliers
The morning operation briefing takes place every morning at nine in the meeting room next to the assembly floor. In these sessions Xi Chen discusses current issues with department and area managers for half an hour. They keep him updated on the progress made and challenges they face. Shirley Wang, 37-year-old head of Quality Assurance at the CLAAS Gaomi site, always attends these meetings.
"The CLAAS corporate culture is based on mutual support and trust", she says. The QA department has to work very closely with the production and design departments, as well as with customers to achieve the best possible results. And the work of Shirley Wang and her 37 dedicated team members is paying off.
This is illustrated by the fact that Gaomi also supplies CLAAS Industrietechnik, a subsidiary of the CLAAS group based in Paderborn, Germany. The components produced in Gaomi are used in CLAAS machines throughout the world. The company's headquarters in Harsewinkel recently confirmed that General Manager Chen produces better quality than many German suppliers.
Our colleagues are looking forward to the continued expansion of the factory.
This is due in no small part to the close relationship that has developed across the national borders. In recent years, German and Chinese colleagues have regularly worked in tandem teams in Gaomi and Harsewinkel. What's more, CLAAS invests heavily in training the workforce in Gaomi. Even during the pandemic—in the middle of China's "zero-covid" policy—Chinese colleagues flew to Harsewinkel to attend seminars.
Xiandian Meng greatly appreciates the exchange within the CLAAS Group. The 33-year-old is head of the CLAAS Industrietechnik department in China and works closely with CLAAS Industrietechnik colleagues in Paderborn. Meng obtained his master's in mechanical engineering at RWTH Aachen University and is convinced that German and Chinese cultures complement one another very well. The Chinese are often extremely efficient and flexible, while Germans place great value on accuracy, he explains.
"My colleagues in Gaomi have to get used to the fact that Germans communicate more directly than we do." While the Chinese tend to politely skirt around issues, the Germans don't beat around the bush. "Over time we've come to realize that it's nothing personal, it's just a matter of fact", he laughs.
A typical workday in Gaomi
Dual education and training: a recipe for success
Another aspect of German corporate culture embraced by the Gaomi plant is the dual education and training program for technicians. The system is virtually unknown in China, explains Qian Liu, the plant's Dual Education and Training Manager. The 38-year-old engineer joined CLAAS in September 2021 having previously worked for BMW in China and is familiar with the German apprenticeship culture.
Chinese companies normally recruit university graduates and then train them. In contrast, apprentices at CLAAS spend much of their time working in the factory as well as attending college. "When they graduate, these young technicians are already familiar with the company and have a clear career path to follow", says Lui. "That's something they really appreciate." Twelve graduates have completed the program to date, and if the company has its way, there will be plenty more to follow.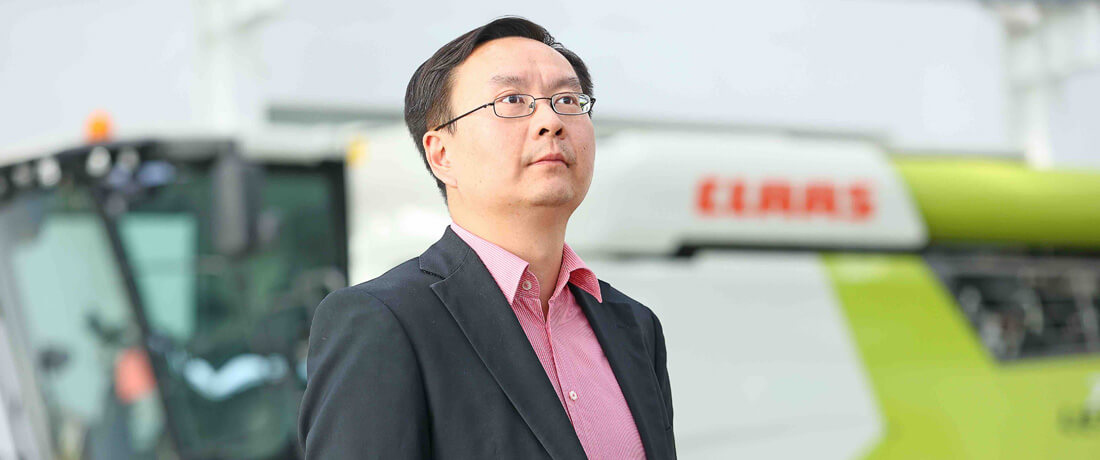 "Our combine harvesters are made in China,
but more importantly, they're made by CLAAS"
In an interview, General Manager Dr Xi Chen explains what the CLAAS factory in Gaomi represents.
Go to the interview with Dr Chen
A key future market
China fits well into the company's plans: CLAAS is expanding its exports from the Gaomi plant. This includes combine harvesters for Europe, Africa and Central Asia. The side of the business that supplies components to other factories is also growing as it helps CLAAS play to its strengths in terms of procurement and in-house production.
"China will remain a key future market for us, although we must always keep a close eye on its unique aspects and general conditions", says Bernd Kleffmann, Senior Vice President Product Unit Combines Range C-F at CLAAS. "Maintaining self-sufficiency in their own food production is very important to China. That's why a number of CLAAS products manufactured at a range of different CLAAS locations are destined for Chinese customers. And that includes combine harvesters in green and red from Gaomi."
Xi Chen lives in a small apartment in Gaomi during the week. On the weekend he takes a six-hour train ride back to his wife and three children in Shanghai. On Sunday evenings he then commutes back to Gaomi.
Chen plans to grow the factory even further in the coming years, something that the workforce there welcomes: "Our colleagues are always willing to learn new skills and look forward to the further development of the factory."
To drive this development forward, Xi Chen will be back in his office again next Monday, by 7 a.m. at the latest.
From agriculture to literature:
five facts about Gaomi
1.
Gaomi is a district in the Weifang region with a long track record of manufacturing farm machinery such as combine harvesters and tractors that goes back several decades. As a thriving business center, Gaomi has a mixed economy of agriculture and industry. Shandong Province, where the district is located, is famous for being China's breadbasket and for its produce.
2.
With a population of 877,000—by comparison, the city of Frankfurt am Main, Germany, has 753,000—the city of Gaomi, which bears the same name as the district, is small by Chinese standards. Hardly surprising, given that Shandong Province has over 101 million inhabitants, more than Germany, Austria and Switzerland combined.
3.
The city of Gaomi has a population density of 213 inhabitants per square mile, more than double that of Germany and the USA or more than 100 times that of Canada.
4.
The novelist Mo Yan—the first Chinese winner of the Nobel Prize in Literature—comes from Gaomi. Most of his novels are set in the city, including "Red Sorghum", which gave him his literary breakthrough in 1986. It was adapted for film by director Zhang Yimou to critical international acclaim.
5.
Because of Mo Yan's novel, Gaomi is known throughout China for its red sorghum, a type of millet grown in the region. Sorghum is not only a global food staple, it's also used in cattle feed and can be processed into bioethanol.
Behind the scenes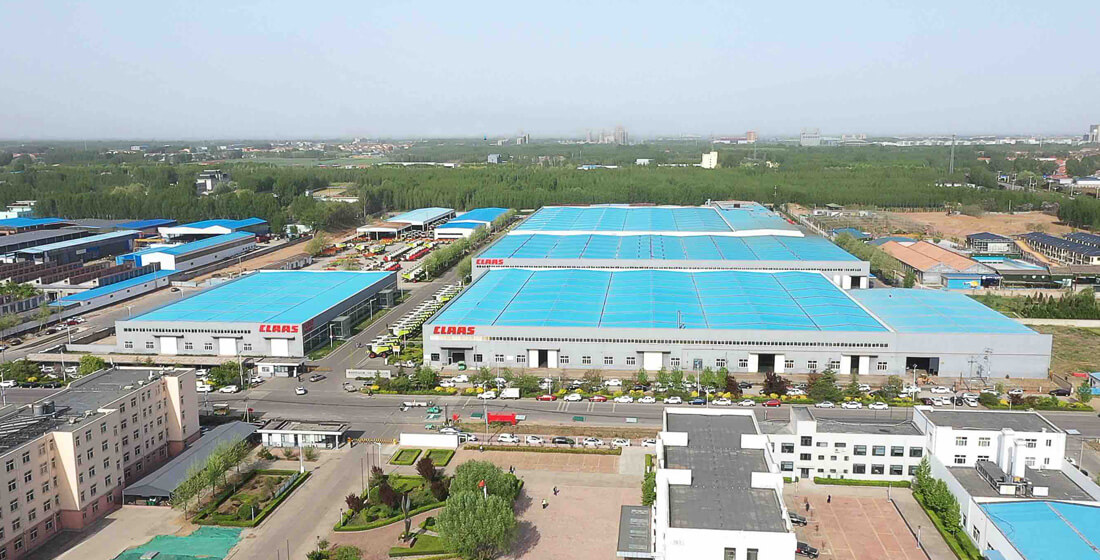 The CLAAS production plant in Gaomi spans an area of 1,291,200 square feet. CLAAS also has sites in Qingdao, Suzhou und Wuqing which focus on different areas of activity.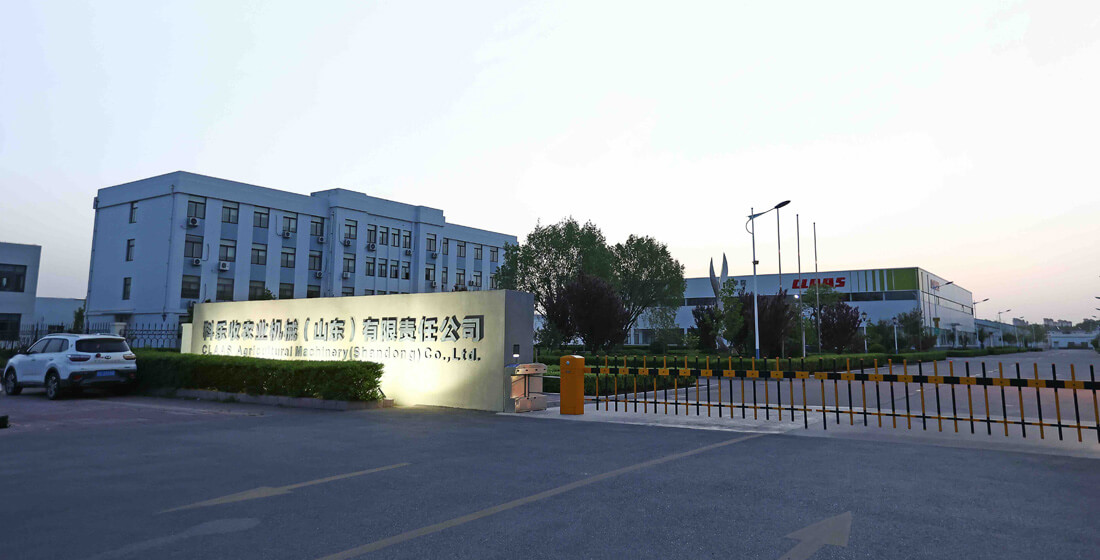 On the eastern side of the site is the factory's main administrative building, the showroom for the local sales company, and the ACADEMY, as well as several workshops and warehouses.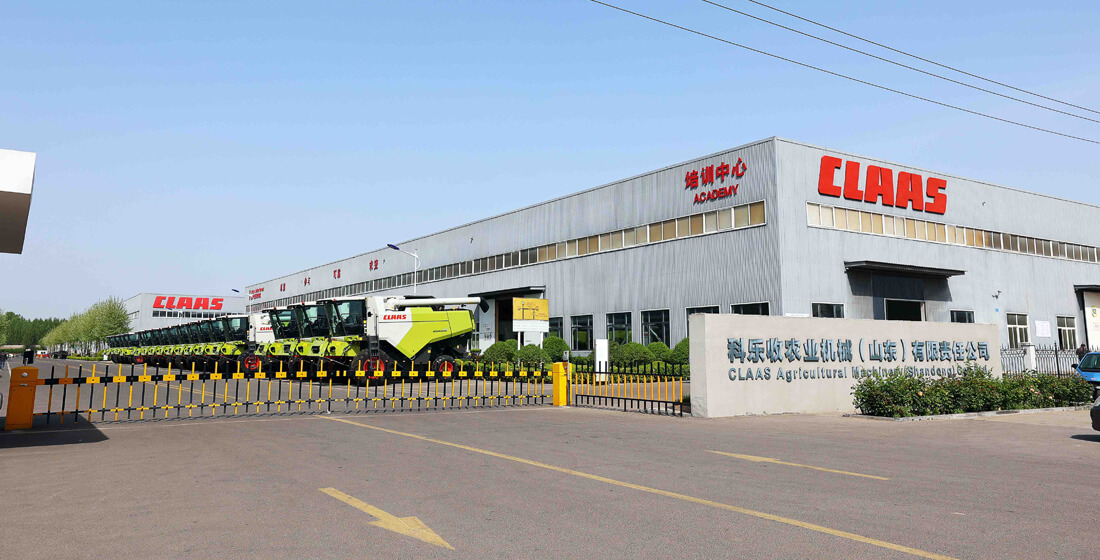 The west campus is home to the main production area and the dual training and education center.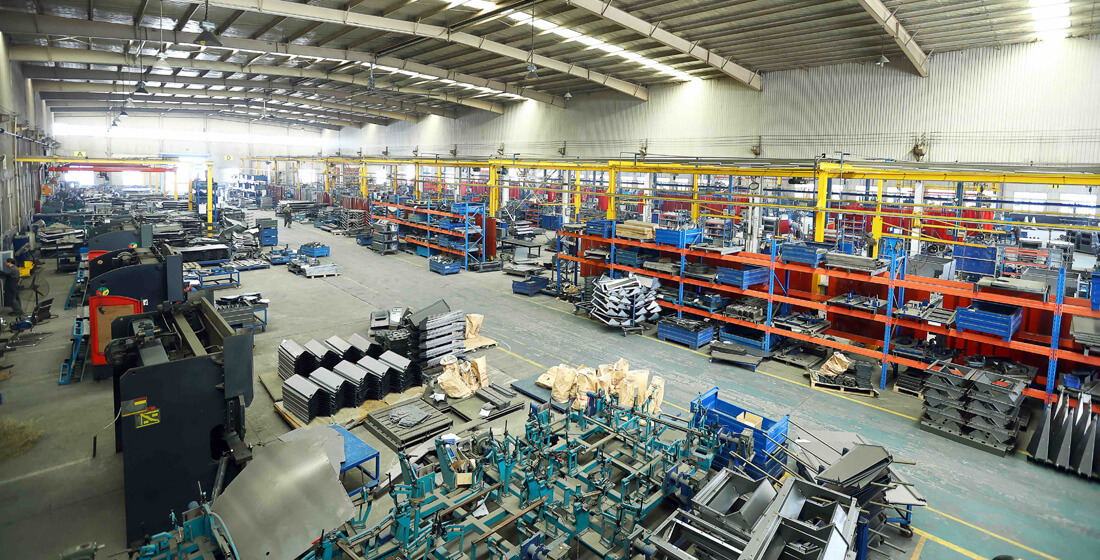 The factory in Gaomi produces parts and components for in-house production, as well as for other CLAAS sites around the world. It also produces products for CLAAS Industrietechnik, such as axles. But that's not all...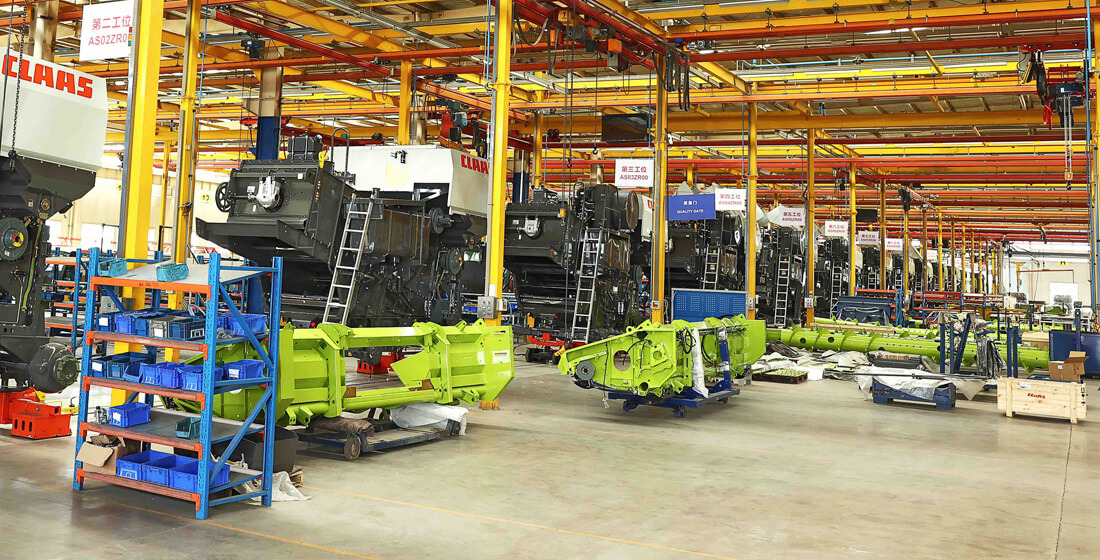 ... combine harvester headers are also built here in close cooperation with our factory in Hungary.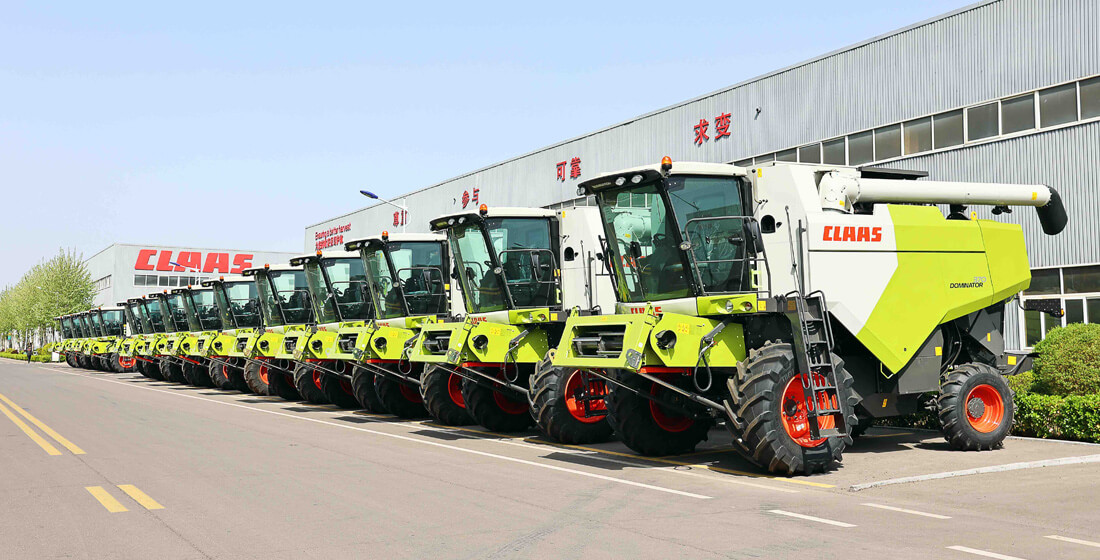 CLAAS combine harvesters made in Gaomi: the DOMINATOR 370 hybrid combine harvester and the DOMINATOR 260 straw walker machine in the 12 t class were developed for the Chinese market and selected overseas markets. Further harvester models are in the pipeline. Particularly popular in China are…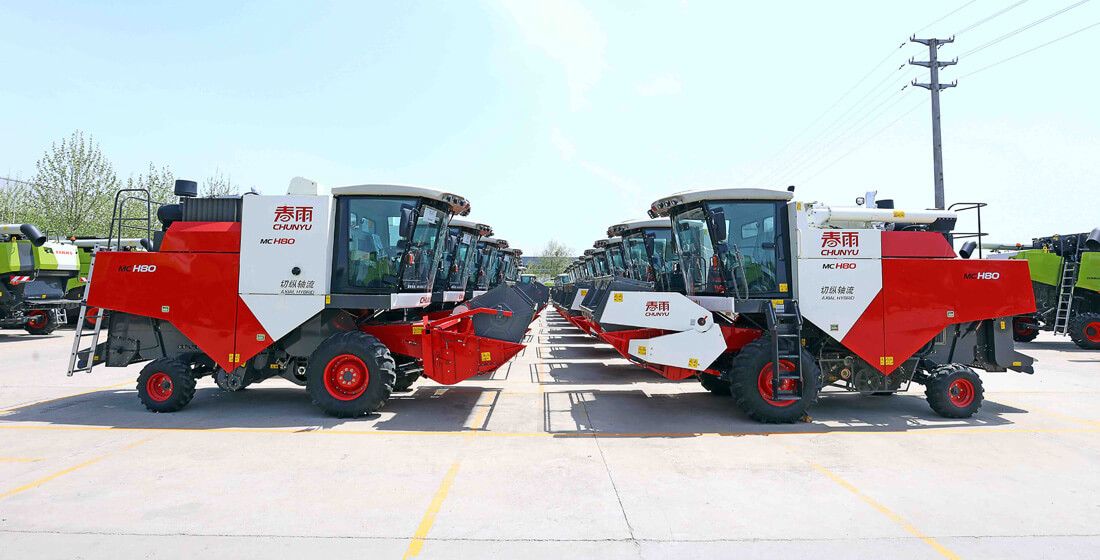 ...the 10 t combine harvesters sold under the Chinese brand name CHUNYU: developed for smaller fields and equipped with proven CLAAS hybrid technology for harvesting a wide variety of different grains, and in a compact design for easy transportation and a comfortable air-conditioned cab.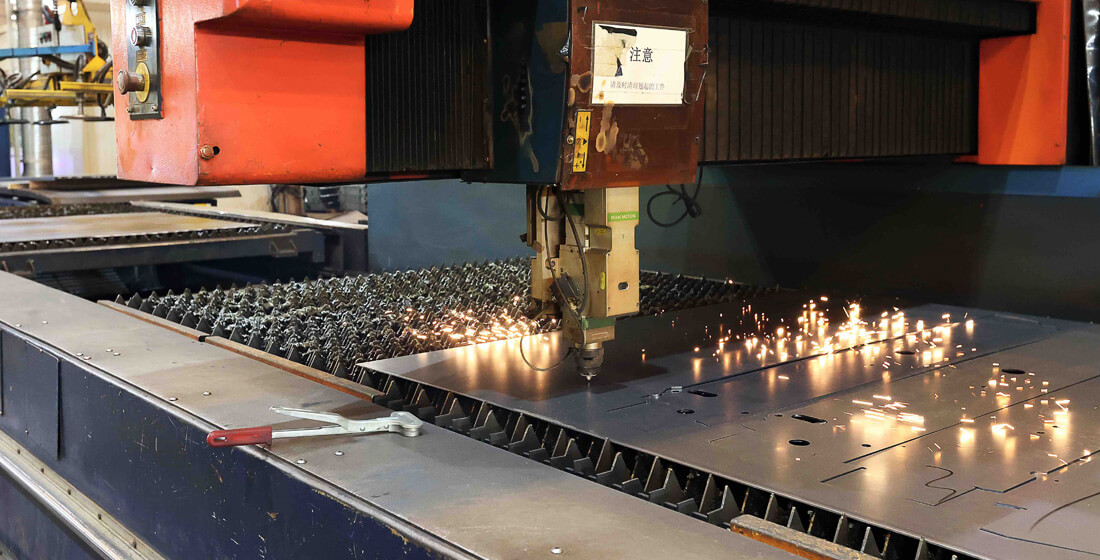 Precision cuts: the factory has a modern 12 kW laser cutter for rapid, high-precision sheet cutting.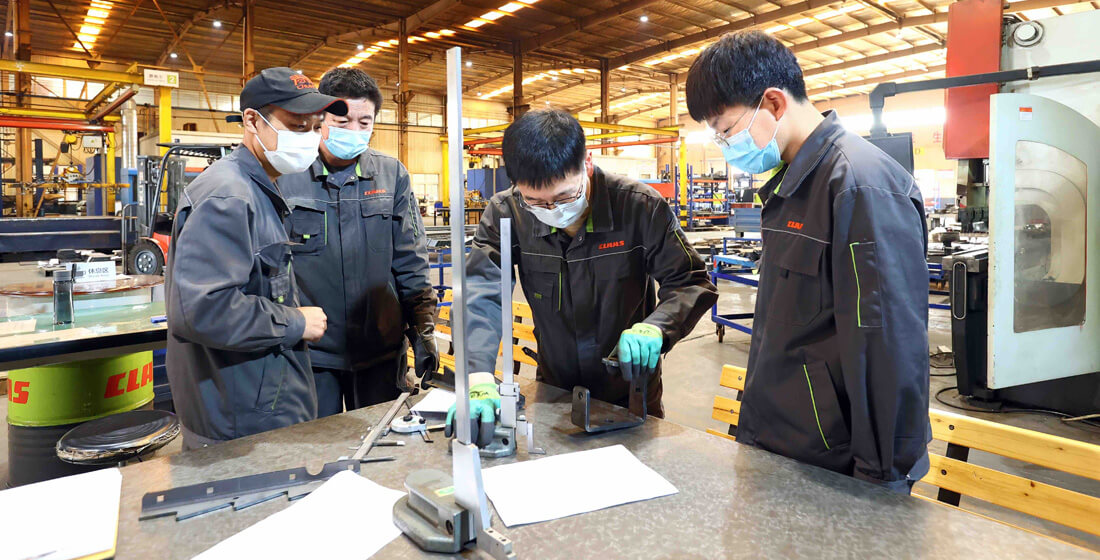 Only parts that pass the strict quality controls can leave preproduction.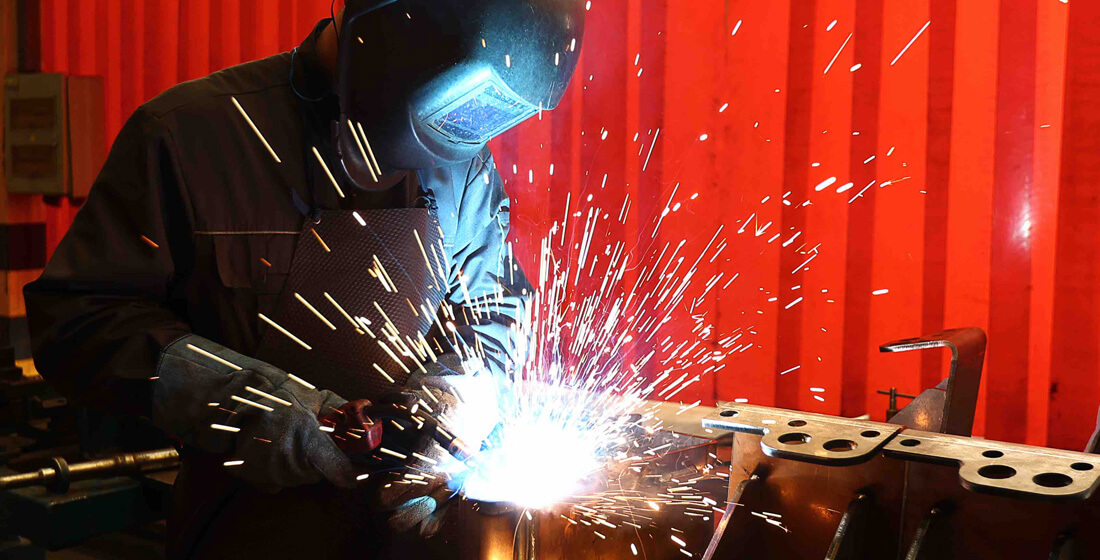 Different components are joined together in the welding shop. Then…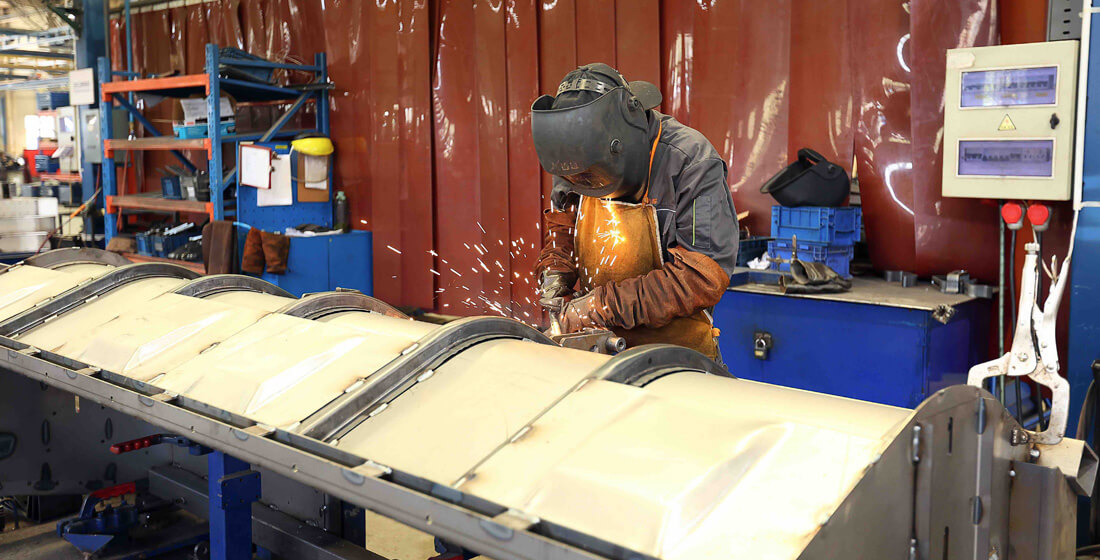 … all sharp edges and rough surfaces are ground off to obtain a smooth finish.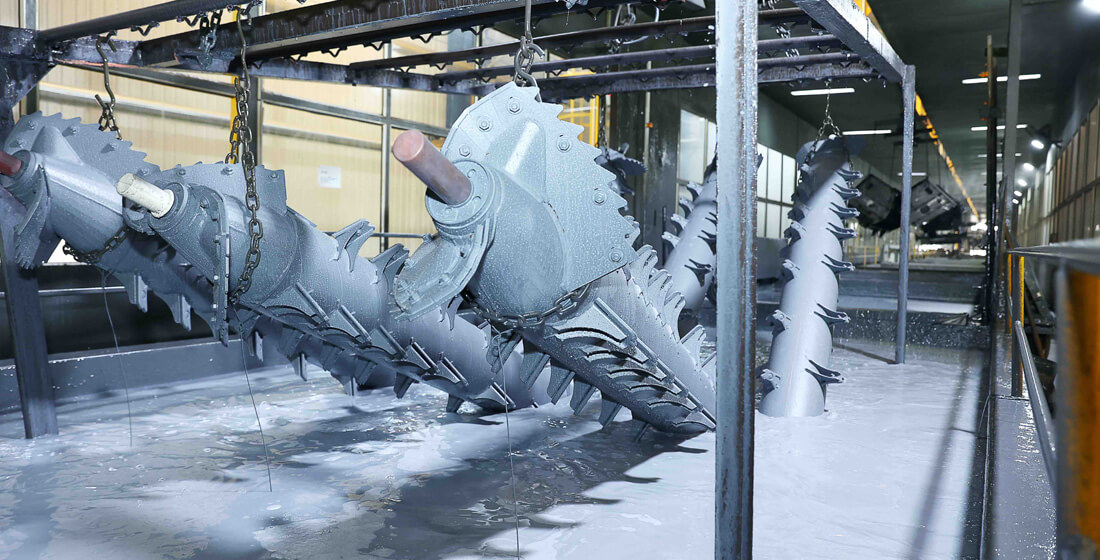 The parts undergo the electrochemical treatment called tri-cation phosphating (electro-coating). This applies a clean, uniform surface coating to ensure corrosion protection and a good surface finish.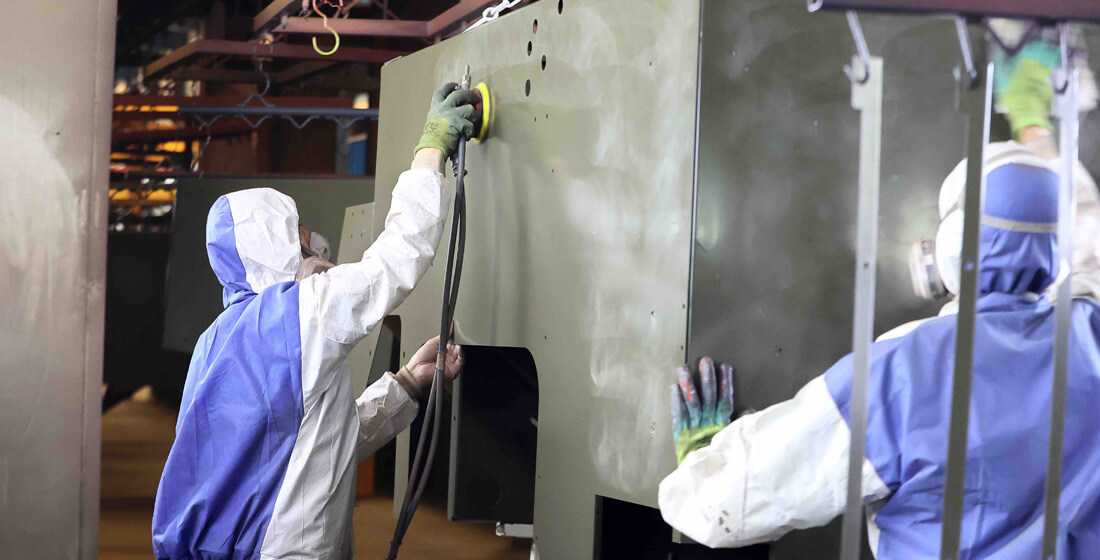 Preparing components for the paint shop: surfaces are sanded down to ensure better paint adhesion.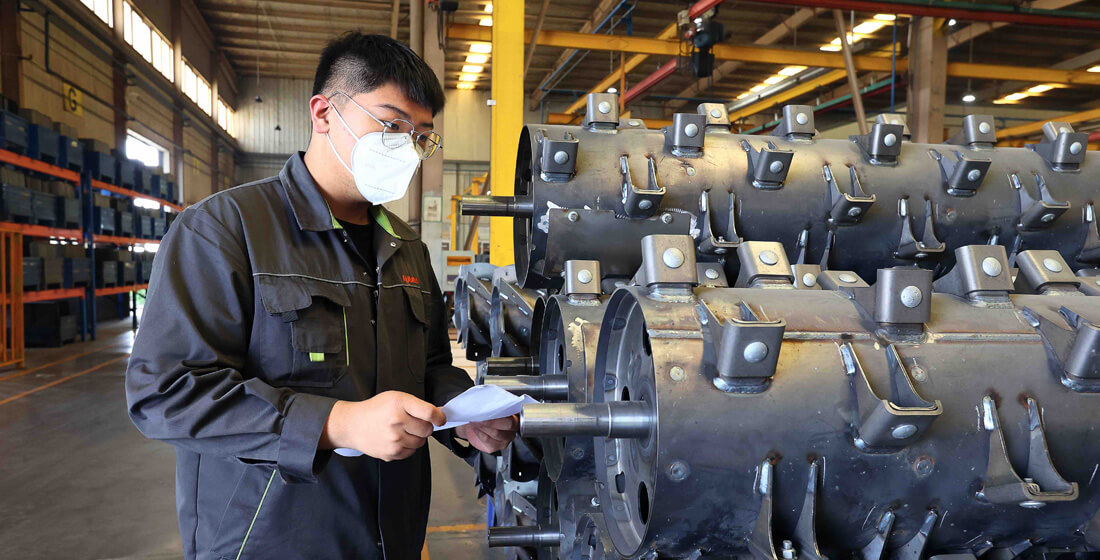 Checking the quality of manufactured components: only approved components make it to the assembly line. Even the slightest defect is grounds for rejection.
Engines from established European engine suppliers are installed in CLAAS combine harvesters. The engine properties and other performance indicators are developed specially for CLAAS.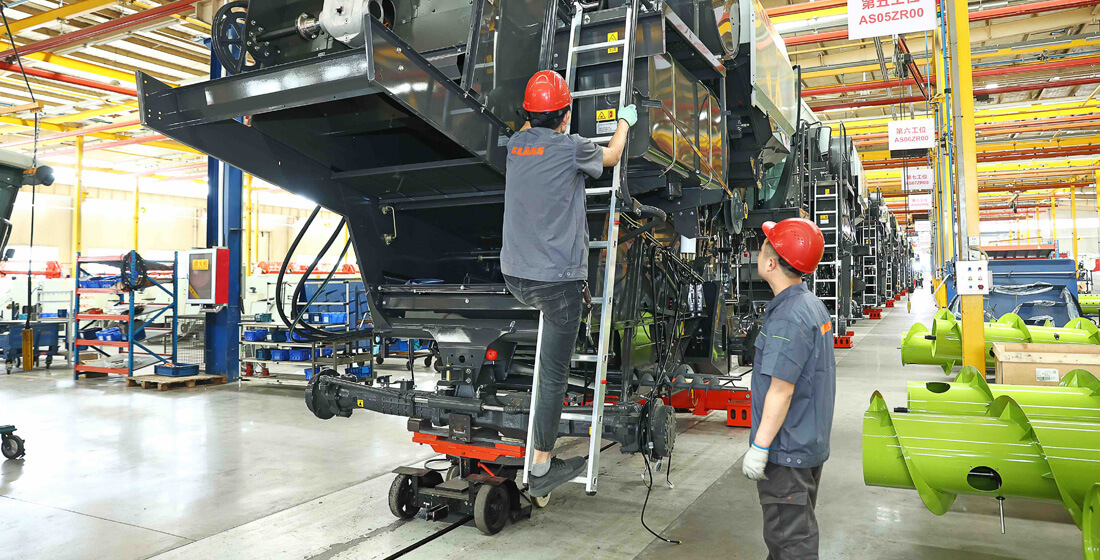 The beating heart of the factory: this is where the combine harvesters are assembled. CLAAS operates two separate assembly lines: one for CLAAS combine harvesters and one for CHUNYU combine harvesters.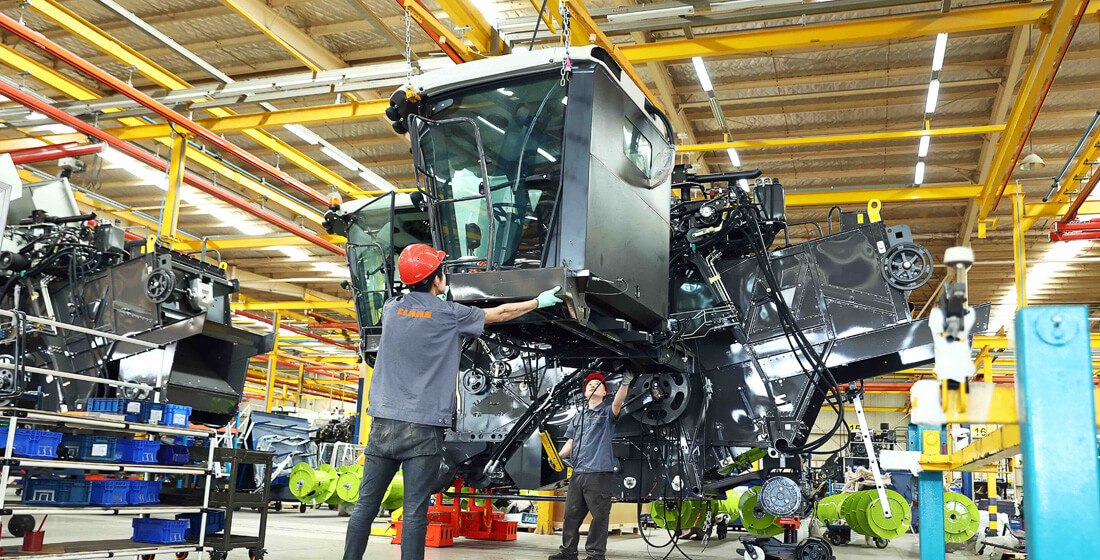 A crucial moment: installing the cab on the chassis.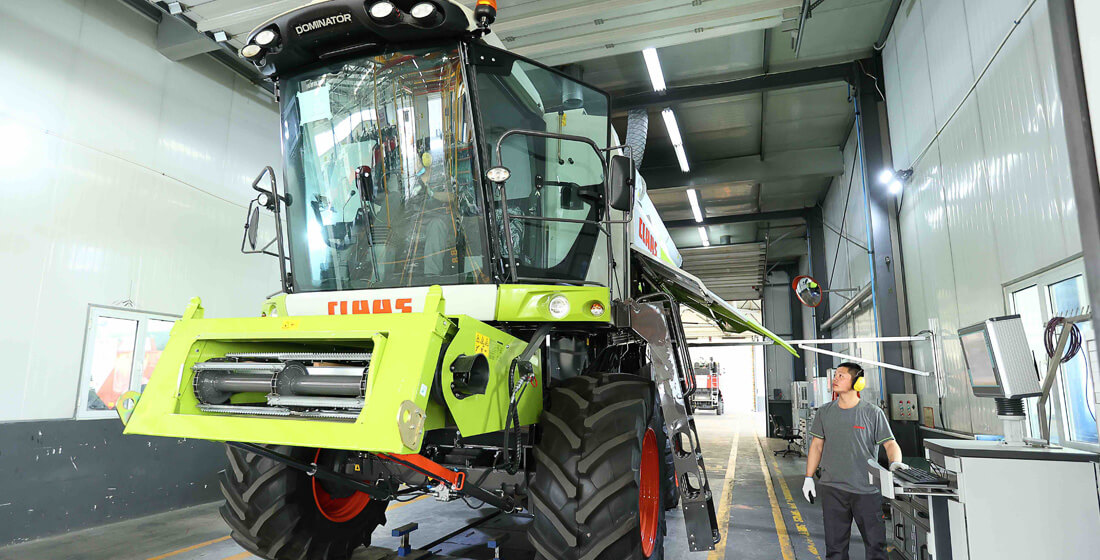 The combine harvester undergoes the final inspection as soon as it leaves the assembly line. Using CLAAS standard test procedures, all quality properties are tested and documented in the quality assurance system.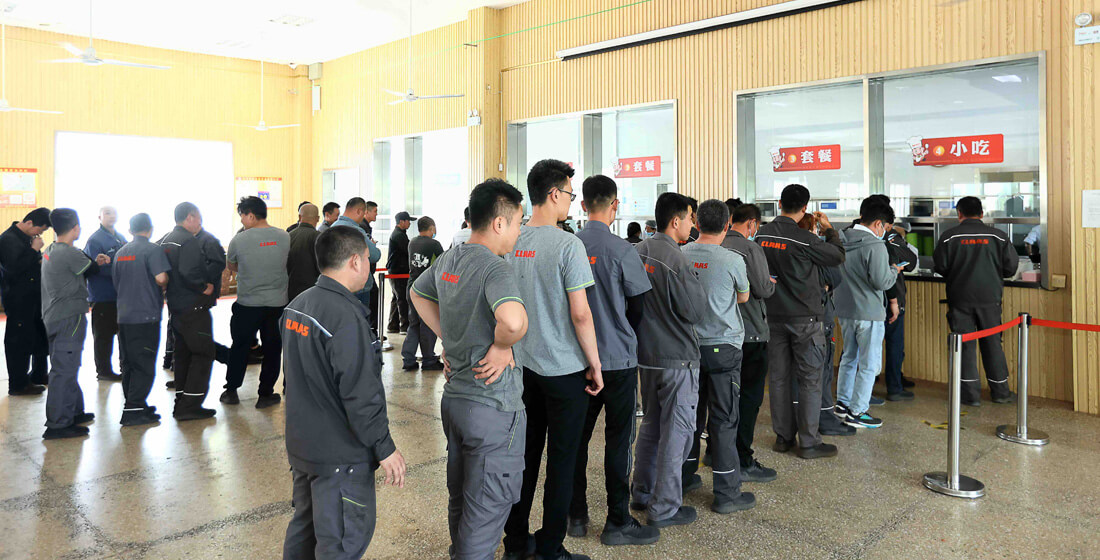 The cafeteria offers a choice of meals at lunchtime. Breakfast and evening meals are also available for colleagues who start early or work the late shift. Around 100 employees who do not come from Gaomi are accommodated in the nearby company hostel.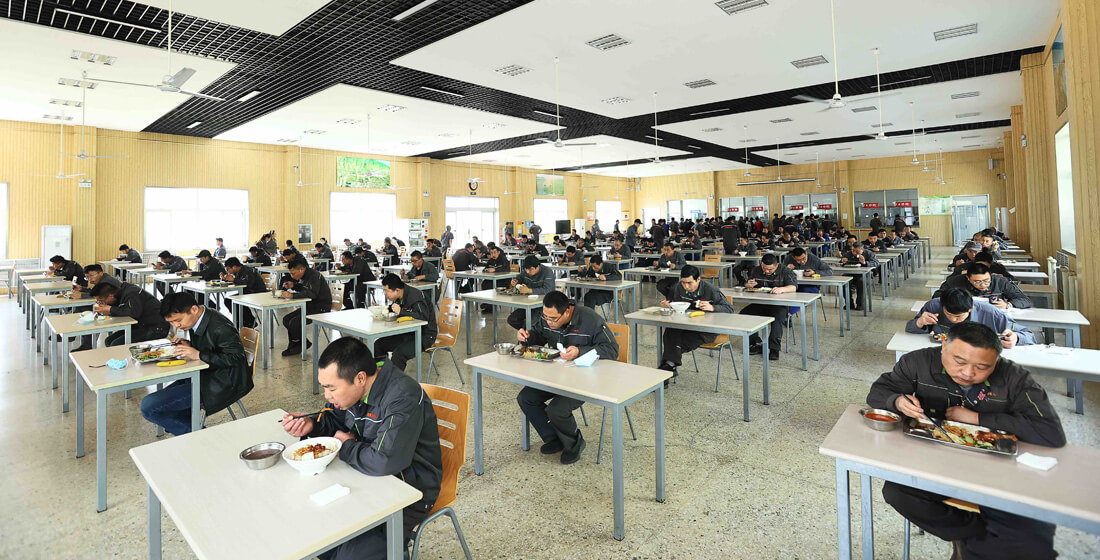 A well-earned break: CLAAS employees relaxing and enjoying their lunch after the early shift.